Description
Introducing Malta Maltín Polar: The perfect refreshing companion for any occasion!

Indulge in the rich flavors of Malta Maltín Polar, the beloved beverage that has delighted taste buds for generations. Crafted with care and expertise, this canned malt is a true icon of Venezuelan refreshment, offering a unique and satisfying experience like no other.

Our Malta Maltín Polar captures the essence of malted barley, blending it with quality ingredients to create a harmonious fusion of flavors. With each sip, you'll be greeted by a smooth and creamy texture that glides across your palate, leaving behind a delightful combination of sweetness and a hint of bitterness, perfectly balanced to delight your taste buds.

Conveniently packaged in an elegant and sturdy can, Malta Maltín Polar is the ideal companion for any occasion. Whether you're enjoying a relaxing afternoon at home, embarking on an exciting outdoor adventure, or simply in need of a revitalizing boost during a busy day, our canned Malta is there to quench your thirst and revive your senses.

Savor the convenience of Malta Maltín Polar as it requires no preparation. Just open a can and you'll be ready to enjoy the smoothness and velvety delight that awaits you. Each sip will transport you to a world of pure refreshment, providing you with a well-deserved break from the hustle and bustle of everyday life.

Maltín Polar in a Can is not just a beverage; it's a celebration of Latin American heritage and tradition. It's the perfect choice for gatherings, parties, or simply for sharing moments of joy with loved ones. Its classic and timeless appeal makes it a favorite among people of all ages, offering a touch of nostalgia that never fails to bring smiles to faces.

So why wait? Treat yourself to the exceptional taste of Maltín Polar in a Can today. Embrace the legacy of a beloved beverage that has withstood the test of time and experience a drink that embodies the essence of Latin American refreshment. Let each sip transport you to a world of flavor and enjoyment, making every moment a memorable one. Cheers to Maltín Polar in a Can!

Valoración de los clientes
Escribe un comentario
Haz una pregunta
Filter Reviews:
estado
hielo
tierra
profesionales
full
malta
latas
amazon
productos
Venezolano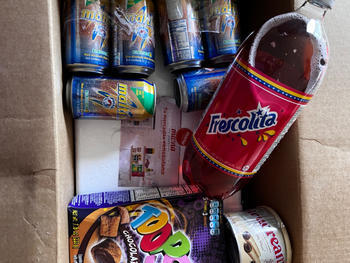 06/15/2023
Excelente
Hoy me llegó mi paquete, súper bien empacado con los productos congelados en una cava con hielo suficiente para mantenerlos fríos. Todo llegó en buen estado. Súper recomendado este servicio. Muchas gracias.
Ana D.

United States
11/09/2023
Muy buenos precios y llego rápido! Aparte túrneme excelente atención al cliente.
Todo lo que pedí vino en excelente condiciones
Jennifer S.

United States
10/30/2023
Muy sabroso
Tiene mucha azúcar para mi
Maria N.

United States
10/18/2023
Félix J.

United States
07/29/2023
Ok
Buena… muy similar a la de vzla.
Elevis H.

United States